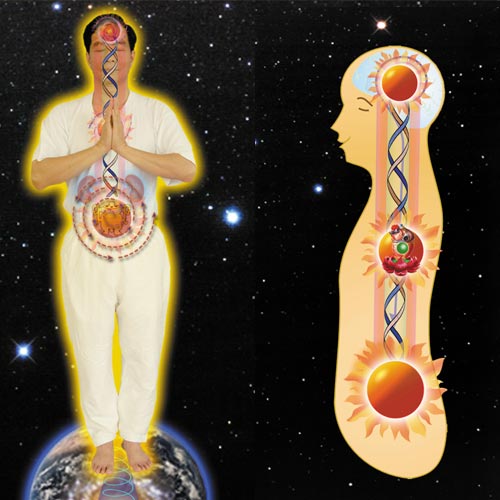 Book now
Workshop:
[Week 3] ::: Tao Yin Qigong & Cosmic Healing Qigong (Part 3 & 4) :::
Course leader:
Grand-Master Mantak Chia
Location:

00000 Computer / Laptop / Handy => zuhause / at home
Topics:
Tao Yin, Cosmic Healing I
Date:
22. - 23.11.2021
Times:
09:00 – 12:00 | Pause/Break | 13:00 – 15:00 Paris Zeit/Time
Course fees:

Payment also possible on german account ...
2-days Online LIVE-Seminar fee 175 €
Description:
[Week 3] :::  Tao Yin Qigong & Cosmic Healing Qigong (Part 3 & 4) :::
Tao Yin Qigong
Tao Yin is a series of exercises which helps to recondition the spine and psoas muscle and facilitates the flow of chi in the meridians.
Strengthen the internal organs

Unify physical, mental and spiritual health

Improve patterns of physical alignment

Develop elasticity in your spine and psoas

Allow the free flow of energy/chi/life-force

Establish roots to the earth's energy

Build the foundation for higher spiritual work
Cosmic Healing Qigong (Parts 3 & 4)
This form, also known as Buddha Palm is a healing form. It trains the practitioner in moving and channeling Qi. As you learn this form, you'll feel Qi coming into your body and hands and be able to project Qi with your fingers. The key is to be connected to the Universe and develop an ability to expand your awareness to nature and beyond the visible to the Source of your power.
Cosmic Healing Qigong is split into 4 parts - each part develops a different type of energy mastery.

Part 3: Opening the Functional, Governor and Thrusting Channels - here you'll learn to enhance the energy in the points along the channels, the reservoirs of yin and yang in your body. As part of this process you become much more sensitive to Qi.

Part 4: Activate One-Finger Art and your Qi Belt - finally you'll learn the yin and yang channels of the arm and activating the Chi belt around the waist. You will develop mastery of emitting and directing energy from your fingers.
Very pleasing: the course fees are reduced considerably. You can book directly via the link and pay to Thailand by credit card or PapyPal, or transfer to our German account via Tao-Berlin.
Taoist basic knowledge made easy, Grand Master Mantak Chia allows you a fascinating insight into the energetic part of Chinese naturopathy
Book now