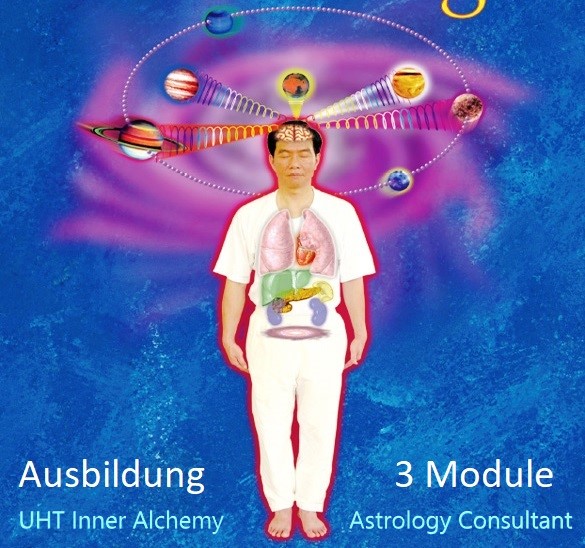 Inner Alchemy Astrology
was developed by Grand Master Mantak Chia and easily reproduces the distribution of the organ energies of our individual body. Traditional Chinese astrology differs significantly from Western systems.
Classical Chinese Medicine and the 4 pillar Ba Zi / Ming Pan system approach the mind-soul-body unity of the Taoists in different ways, but share the same foundations and relationships.
Mantak Chia's computer program saves us arithmetic, we can start using it immediately.
Each teacher meets the most diverse students. The authority of my teaching grows with the knowledge of the needs of my counterpart - and in the mastery of the methods, exercises and wisdom handed down to me by Grand Master Chia for our mind-body-soul.
We can expect growth for the mind through nourishing knowledge of the connections; the soul-feeding stimulation of our virtues; the practice of Inner Alchemy, as well as the first steps in the transformation of our physical body.
Deepen your understanding of the 5 Elements and Yin and Yang, the core of Taoism. We learn how these elements can be used in the practice of inner alchemy.
For well being, the Healing Lute, the Inner Smile and the Fusion are included. We learn to lead and harmonize energies for ourselves, our loved ones and students.
So a practical understanding of cause and effect in our relationships, in partnerships, in the family, and in the workplace.
It is fun! We are all made of energy, we see the world more consciously through the understanding of the 5 elements. We recognize which energy patterns are contained in colors, seasons and emotions.
In many spiritual traditions, ignorance is the greatest obstacle to rising from the causal world, from satisfying our worldly needs, to finding meaning.
The UHT Inner Alchemy Astrology System after Grandmaster Chia helps us to recognize the Chi distribution in our body, in the organs and thus in our quality of life - a life energy radar so to speak. Our vulnerability, our empathy, our temperament, our inner anchoring, and our navigation in the storms of life become more conscious through new knowledge.